Gastein Peak Crown
... A badge of special class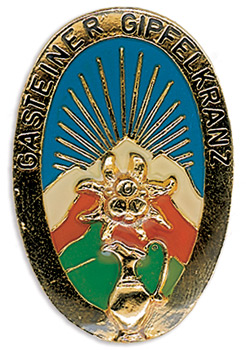 The gastein valley goes across 20 kilometers to the Tauern main ridge, above which are 55 "Gipfel Spalier". A Peak crown, which rises higher from crest to crest, leads up to the three peaks in the National Park Hohe Tauern. Those who want to climb them all, have a big challenge – those who  manage are honored with a special badge: The Gastein peak crown - the highest class of the Gastein Alpine and Hiking Pin.
Among the peaks that surround the twenty kilometer Gastein are harmless grass mountains as well as demanding three thousand meter high,  well-marked hiking and trackless peaks that would otherwise  be rarely observed. The biggest mountaineering challenges are the three thousand meters between Ankogel and Elendscharte: Grubenkarkopf, Tischler spitze and Tischlerkarkopf lie above remote valleys, amidst split-rich glacier, connected by brittle, rocky ridges.
Alpine experience, mountaineering skills, climbing skills, safe walking on ice and rock as well as a very good orientation skills are required for anyone who wants to take  attempt to reach the top peak. And for some peaks, even most experienced climbers should be accompanied by a mountain guide. 
Below you will find all the peaks of the Gastein summit rim. We start with the Rauchkögerl, the northernmost summit on the western side of the valley, follow the ridge up to the three peaks in the National Park Hohe Tauern with the Goldberg group, and then turn north again and get on the eastern ridge to Luxkogel at the beginning of the Gastein valley .
| Peak | Hight |   |   | marked |   |
| --- | --- | --- | --- | --- | --- |
| Rauchkögerl | 1810 m | Tour 39 | Wanderweg | yes | easily |
| Bernkogel | 2325 m | Tour 37 | Wanderweg | yes | difficult |
| Sladinkopf | 2305 m | --- | Bergsteig | no | medium |
| Tagkopf (Dorfer Himmel) | 2085 m | Tour 36 | Wanderweg | yes | blue |
| Seebachkatzenkogel | 2148 m | --- | Bergsteig | no | blue |
| Kramkogel | 2454 m | --- | Bergsteig | no | easily |
| Hundskopf | 2403 m | --- | Bergsteig | no | easily |
| Türchlwand | 2577 m | Tour 23 | Wanderweg | yes | easily |
| Mauskarkopf | 2373 m | Tour 22 | Wanderweg | yes | medium |
| Kalkbretterkopf (Breitfeldkogel) | 2412 m | Tour 19 | Wanderweg | Bis Stanzscharte markiert | easily |
| Silberpfennig | 2660 m | Tour 2 | Wanderweg | yes | easily |
| Zittrauertisch | 2409 m | Tour 9 | Wanderweg | yes | easily |
| Kolmkarspitze | 2529 m | --- | Bergsteig | no | easily |
| Schareck | 3122 m | --- | Alpiner Steig | yes | difficult |
| Weinflaschenkopf | 3006 m | --- | Hochalpine Tour (Bergführer!) | no | triangle |
| Schlapperebenspitze | 2973 m | --- | Hochalpine Tour (Bergführer!) | no | triangle |
| Sparangerkopf | 2915 m | --- | Hochalpine Tour (Bergführer!) | no | triangle |
| Murauerkopf | 2988 m | --- | Hochalpine Tour (Bergführer!) | no | triangle |
| Hohe Geißl | 2974 m | --- | Alpiner Steig | yes | difficult |
| Romatenspitze | 2696 m | --- | Alpiner Steig | no | difficult |
| Großer Woisgenkopf | 2701 m | --- | Alpiner Steig | no | difficult |
| Kleiner Woisgenkopf | 2557 m | --- | Alpiner Steig | no | difficult |
| Salesenkogel | 2681 m | --- | Alpiner Steig | no | difficult |
| Kreuzkogel | 2686 m | Tour 7 | Wanderweg | yes | easily |
| Thomaseck | 2112 m | --- | Bergsteig | no | easily |
| Gamskarlspitze | 2832 m | --- | Alpiner Steig | no | difficult |
| Römerkopf |   | --- |   | no | difficult |
| Ankogel | 3252 m | --- | Hochalpine Tour | yes | triangle |
| Grubenkarkopf | 3006 m | --- | Hochalpine Tour | no | triangle |
| Tischlerspitze | 3001 m | --- | Hochalpine Tour (Bergführer!) | no | triangle |
| Tischlerkarkopf | 3004 m | --- | Hochalpine Tour (Bergführer!) | no | triangle |
| Hölltorkogel | 2905 m | --- | Hochalpine Tour | no | triangle |
| Pafnerseekopf | 2531 m | --- | Alpiner Steig / leichte Kletterei | no | difficult |
| Graukogel | 2492 m | Tour 13 | Wanderweg | yes | medium |
| Hüttenkogel | 2231 m | Tour 13 | Wanderweg | yes | easily |
| Feuersang | 2477 m | --- | Bergsteig | no | medium |
| Bocksteinkogel | 2527 m | --- | Alpiner Steig, leichte Kletterei (Bergführer!) | no | difficult |
| Keeskogel | 2886 m | --- | Hochalpine Tour | no | triangle |
| Keesnickelkopf | 2776 m | --- | Hochalpine Tour (Bergführer!) | no | triangle |
| Grasleitnkopf | 2406 m | --- | Alpiner Steig | no | difficult |
| Glaserer | 2434 m | --- | Alpiner Steig | no | difficult |
| Flugkopf | 2281 m | --- | Bergsteig | no | easily |
| Döferl (Kreuzkogel) | 2325 m | --- | Bergsteig | no | easily |
| Thronegg | 2214 m | --- | Bergsteig | no | easily |
| Gamskarkogel | 2467 m | Tour 17, 27 | Wanderweg | yes | easily |
| Frauenkogel | 2424 m | Tour 27 | Wandergweg | yes | easily |
| Laderdinger Gamskarspitze | 2413 m | --- | Bergsteig | no | difficult |
| Geißkarkopf | 2385 m | --- | Bergsteig | no | medium |
| Kreuzkogel (Dorfgastein) | 2027 m | Tour 32 | Wanderweg | yes | easily |
| Fulseck | 2033 m | Tour 30-32 | Wanderweg | yes | easily |
| Schuhflicker | 2214 m | Tour 31 | Wanderweg | yes | medium |
| Urkübl | 2010 m | Tour 32 | Bergsteig | im Gipfelbereich nein | medium |
| Gasteiner Höhe | 1994 m | Tour 33 | Wanderweg | yes | easily |
| Hassek | 2119 m | Tour 33 | Wanderweg | yes | easily |
| Luxkogel | 1824 m | --- | Wanderweg | yes | easily |